Snow Coast Real Estate – Shep The Turnpike Dog
14 Tuesday Feb 2017
Dear Readers,
Do You Know About Shep The Broomfield Turnpike Dog?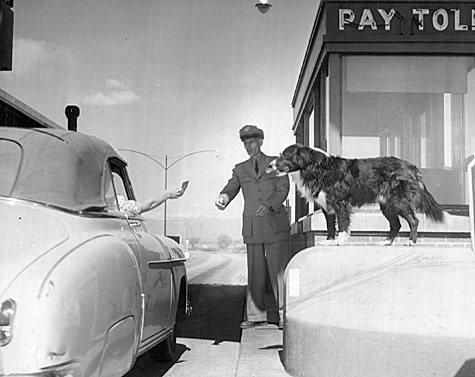 Shep Greeting Drivers at The Turnpike
Many of you from Denver may not realize that US-36 (Denver-Boulder Turnpike) ACTUALLY used to be a turnpike (with tollbooths!) across a vast, open space between Broomfield and Boulder. In 1960, Boulder had 25% of its current population and the Denver Metro Area had a population about 30% of what it is today — not even 1 million!!! Denver-Boulder in 1960, looked like present-day Kansas.
This makes the story of Shep The Turnpike Dog all the more amazing. If you're in Broomfield, take the opportunity to visit or just think about Shep the Turnpike Dog. Here's his story from his Facebook page.
Part Shepherd, Mostly Affection
Though many loved the pup who appeared in 1950, where he came from remains a mystery. One story is that workers found the black and white dog while constructing the Boulder-Denver Turnpike tollbooths and befriended him. Once U.S. 36 opened, tollbooth operators adopted Shep and he settled into a life of greeting cars and keeping tollmen company.
Shep quickly became the most popular attraction on the new highway and the highlight of many drives. Families, salesman, and daily commuters would bring him food and treats. He became an unofficial mascot for Colorado Department of Transportation (CDOT)—a painted portrait of Shep still hangs in their offices.
When Shep died in 1964, highway maintenance workers buried him along the side of the road and soon after an anonymous person began decorating his grave during the holidays.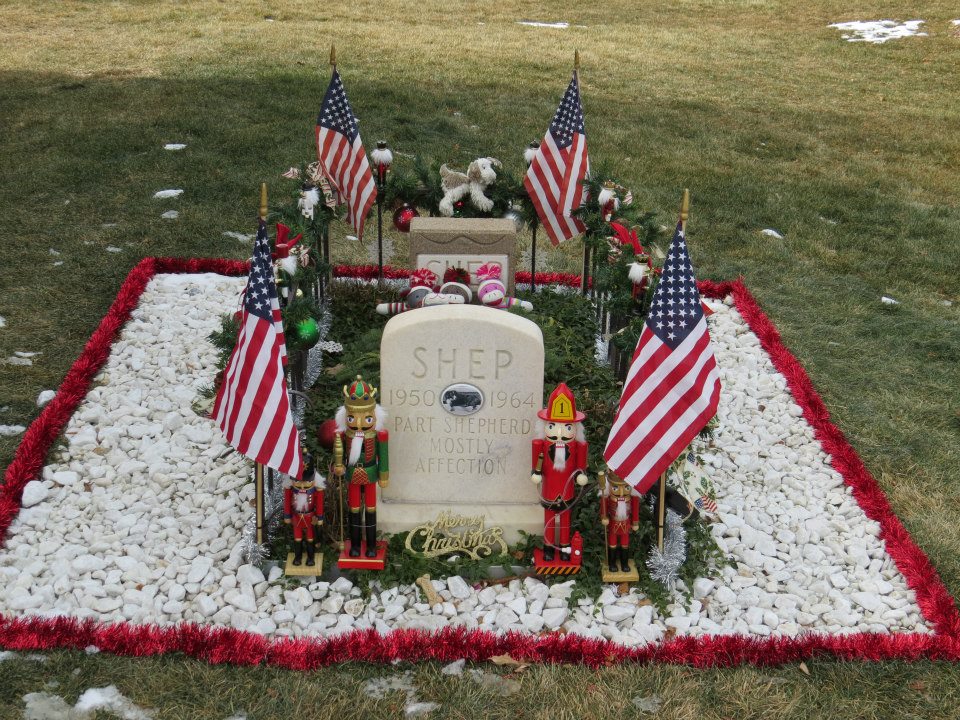 Shep's New Resting Site
In 2009, due to planned construction on an onramp, CDOT and City and County of Broomfield workers moved Shep's grave next to Broomfield Depot Museum in Zang Spur Park. Today fans visit his memorial and dogs and their people stop to pay respects.
A local author, Charlotte Havey, wrote a children's book about Shep. You can purchase copies of this at: http://charlottehavey.com/store/
Kind regards,
Michael Clarkson
Broker / Owner / REALTOR®
GRI, MBA
Snow Coast Real Estate
Cell: 720.980.6393
Google Voice: 424.249.9736
Oh, by the way®… if you know of someone who would appreciate the level of service I provide, please call me with their name and business number. I'll be happy to follow up and take great care of them.
This message was sent to you courtesy of Michael Clarkson (Snow Coast Real Estate PO Box 620519, Littleton CO 80162), Powered by Referral Maker. It is intended to promote products or services. If you no longer wish to receive these emails you may unsubscribe here: Unsubscribe