Snow Coast Real Estate – HAIL-MAGEDDON!
10 Wednesday May 2017
Readers,
If you've lived in Colorado for any amount of time, you know that the weather will change on a dime. What a change Monday brought!
Hail – some as much as 2.75″ in diameter, about the size of a baseball – fell across the Denver Metro Area. The damage COULD make it the most expensive storm in Denver history.
If you are in need of contractors and other service providers, feel free to reach out to me at 720.980.6393. I am happy to recommend roofers and associated contractors to about whom I have received favorable feedback. Most are listed in my Business Referral Directory at http://referraldirectory.snowcoastrealestate.com/ . If you replace a roof, don't forget to have your gutters addressed too. Ken Reinke, one of my referrals (and a client), will take great care of you.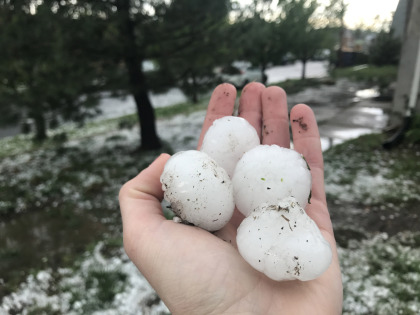 If you have a business YOU trust and would like to share, send me an email to Michael@SnowCoastRealEstate.com and we'll add them to our growing list of referral businesses.
And, if you have a specific need, give me a shout and I will track down a trusted referral (or may have one so new that I've not put them on my site yet).
Kind regards,
Michael Clarkson
Broker / Owner / REALTOR®
GRI, MBA
Snow Coast Real Estate
Cell: 720.980.6393
Google Voice: 424.249.9736
Oh, by the way®… if you know of someone who would appreciate the level of service I provide, please call me with their name and business number. I'll be happy to follow up and take great care of them.
This message was sent to you courtesy of Michael Clarkson (Snow Coast Real Estate PO Box 620519, Littleton CO 80162), Powered by Referral Maker. It is intended to promote products or services. If you no longer wish to receive these emails you may unsubscribe here: Unsubscribe